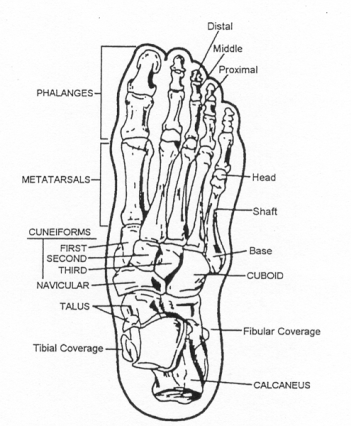 TABLE OF CONTENTS
INTRODUCTION
1 DISEASES AND DISORDERS OF THE MUSCULOSKELETAL SYSTEM
Section I. The Musculoskeletal System

Section II. Joint Pain

Section III. Specific Musculoskeletal Diseases

Exercises
2 DISEASES AND DISORDERS OF THE FEET
Section I. Skeletal and Muscular Structure of the Feet.

Section II. Heel Disorders

Section III. Metatarsalgia Disorders

Section IV. Arthritis of the Feet.

Section V. Malformations and Deformities of Feet.

Section VI. Prevention of Foot Problems

Exercises
-------------------------
LESSON 1
DISEASES AND DISORDERS OF THE MUSCULOSKELETAL SYSTEM
Section 1. THE MUSCULOSKELETAL SYSTEM
1-1. INTRODUCTION
The musculoskeletal system is a complex system of bones, muscles, ligaments, tendons, and other connective tissue. It is this system that gives the body form and shape. This system is subject to a variety of diseases some of which are not well understood. As a medical noncommissioned officer (NCO), you will often need to distinguish the characteristics of musculoskeletal diseases.
1-2. CAUSES OF DEVIATIONS FROM NORMAL MUSCULOSKELETAL FUNCTIONING
Disease, defects, and trauma are the major causes of musculoskeletal system malfunction. Diseases such as arthritis, osteoporosis (imbalance between bone formation and reabsorption), and tumors interfere with proper musculoskeletal functioning. Other defects such as cysts and congenital problems can cause malfunctioning. Trauma to the body such as fractures, sprains, dislocations, subluxations, and strains also cause musculoskeletal system dysfunction.
Section II. JOINT PAIN
1-3. TYPES AND EXAMPLES
The skeletal system is made up of many separate bones held together at joints by flexible connective tissue. The movements that allow us to change position by moving the bony parts of our bodies occur at the joints (also called articulations). Joints are classified by function also taking into account the degree of movement the joint permits. Classified by function there are these types of joints: synarthroses (immovable joints), amphiarthroses (slightly movable joints), and diarthroses (freely movable joints). Additionally, joints are classified by connections: fibrous joints (no joint cavity and bones held together by connective tissue), cartilaqinous joints (no joint cavity and bones held together by cartilage), and synovial ioints (joint cavity and bones forming joint are united by accessory ligaments). Joints are subject to pain that can be classified as monarticular pain and polyarticular pain.
1-4. MONARTICULAR PAIN
Monarticular pain is pain that occurs in one joint. Causes of monarticular pain include:
a. Mechanical Cause. A direct blow to the joint will cause pain. Also, injuries to other body parts that are close to the joint may cause pain in the joint.

b. Osteoarthritis. This is the most common form of arthritis and is a deterioration of the joint cartilage and the formation of new bone at the margins and subchondral areas of the joints. Joint pain is the most common symptom of this condition.

c. Tumors. A tumor, an overgrowth of tissue, can occur at a joint. The tumor may be benign or malignant, causing pain in either case.

d. Pyogenic Cause. Pyogenic refers to a pus-forming infection. It can be acute (sudden onset) or chronic (ongoing but milder). In either case, if this
occurs at a joint, there will be pain.

e. Metabolic Cause. Metabolism refers to the chemical processes taking place in the body's living tissues, processes needed to maintain life. Increased production of uric acid and calcium can result in joint pain.

f. Avascular Necrosis Cause. This refers to the death of tissue due to poor circulation, this tissue having no blood vessels

g. Neuropathic Cause. Joint pain can be associated with nervous system disease.

1-5. POLYARTICULAR PAIN

Here, pain occurs in several joints. Types of polyarticular pain include acute polyarticular pain and subacute pain. Conditions in which there is acute polyarticular pain include rheumatoid arthritis, systemic lupus erythematous, metabolic-caused joint pain, viral infection, and rheumatic fever.
a. Rheumatoid Arthritis. In this chronic, systemic, inflammatory disease, the joints are affected. Initially, the affected joints may only feel stiff when the individual gets up in the morning. Later, joints become painful and tender, especially joints of the wrists, knees, elbows, and ankles.

b. Systemic Lupus Erythematous. This is an inflammatory infectious tissue disease that bears some similarities to rheumatoid arthritis. Joint pain and stiffness are the first and most common symptoms of the disease.

c. Metabolic Caused Joint Pain. These disorders can produce monarticular and polyarticular pain.

d. Viral Infection Process. Diseases in this category range from the common cold and influenza to chicken pox, German measles, and herpes simplex. All are viral infections.

e. Rheumatic Fever. This fever characteristically follows a streptococcal infection. A common complaint among many patients is migratory joint pain.
1-6. SUBACUTE PAIN
This type of pain is chronic but does not have the characteristics of deformity of the area with the exception that there is swelling. Subacute pain can be a symptom of rheumatoid arthritis, systemic lupus erythematous, and metabolic-caused joint pain. Subacute pain can also be characteristic of ankylosing spondylitis, a progressive chronic disease of the small vertebral joints of the spine.