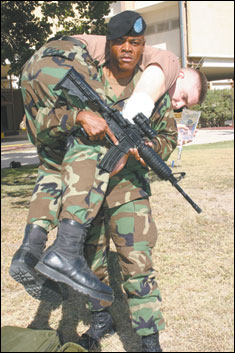 TABLE OF CONTENTS
PREFACE
CHAPTER 1. FUNDAMENTAL CRITERIA FOR FIRST AID
1-1. General
1-2. Terminology
1-3. Understanding Vital Body Functions for First Aid.
1-4. Adverse Conditions
1-5. Basics of First Aid
1-6. Evaluating a Casualty
CHAPTER 2. BASIC MEASURES FOR FIRST AID
2-1. General
Section I. Open the Airway and Restore Breathing
2-2. Breathing Process
2-3. Assessment of and Positioning the Casualty
2-4. Opening the Airway of an Unconscious or not Breathing Casualty
2-5. Rescue Breathing (Artificial Respiration)
2-6. Preliminary Steps—All Rescue Breathing Methods.
2-7. Mouth-to-Mouth Method
2-8. Mouth-to-Nose Method
2-9. Heartbeat
2-10. Airway Obstructions.
2-11. Opening the Obstructed Airway—Conscious Casualty
2-12. Opening the Obstructed Airway—Casualty Lying Down or Unconscious
Section II. Stop the Bleeding and Protect the Wound
2-13. General
2-14. Clothing
2-15. Entrance and Exit Wounds
2-16. Field Dressing
2-17. Manual Pressure
2-18. Pressure Dressing
2-19. Digital Pressure
2-20. Tourniquet
Section III. Check for Shock and Administer First
Aid Measures
2-21. General
2-22. Causes and Effects
2-23. Signs and Symptoms of Shock
2-24. First Aid Measures for Shock
CHAPTER 3. FIRST AID FOR SPECIFIC INJURIES
3-1. General
3-2. Head, Neck, and Facial Injuries
3-3. General First Aid Measures
3-4. Chest Wounds
3-5. First Aid for Chest Wounds
3-6. Abdominal Wounds
3-7. First Aid for Abdominal Wounds
3-8. Burn Injuries
3-9. First Aid for Burns
3-10. Dressings and Bandages
3-11. Shoulder Bandage
3-12. Elbow Bandage
3-13. Hand Bandage
3-14. Leg (Upper and Lower) Bandage
3-15. Knee Bandage
3-16. Foot Bandage
CHAPTER 4. FIRST AID FOR FRACTURES
4-1. General
4-2. Kinds of Fractures
4-3. Signs and Symptoms of Fractures
4-4. Purposes of Immobilizing Fractures
4-5. Splints, Padding, Bandages, Slings, and Swathes
4-6. Procedures for Splinting Suspected Fractures
4-7. Upper Extremity Fractures
4-8. Lower Extremity Fractures
4-9. Jaw, Collarbone, and Shoulder Fractures
4-10. Spinal Column Fractures
4-11. Neck Fractures
CHAPTER 5. FIRST AID FOR CLIMATIC INJURIES
5-1. General
5-2. Heat Injuries
5-3. Cold Injuries
CHAPTER 6. FIRST AID FOR BITES AND STINGS
6-1. General
6-2. Types of Snakes
6-3. Snakebites
6-4. Human or Animal Bites
6-5. Marine (Sea) Animals
6-6. Insect (Arthropod) Bites and Stings
6-7. First Aid for Bites and Stings
CHAPTER 7. FIRST AID IN A NUCLEAR, BIOLOGICAL, AND CHEMICAL ENVIRONMENT
7-1. General
7-2. First Aid Materials
7-3. Classification of Chemical and Biological Agents
7-4. Conditions for Masking Without Order or Alarm
7-5. First Aid for a Chemical Attack
7-6. Background Information on Nerve Agents
7-7. Signs and Symptoms of Nerve Agent Poisoning
7-8. First Aid for Nerve Agent Poisoning
7-9. Blister Agents
7-10. Choking Agents (Lung-Damaging Agents)
7-11. Cyanogen (Blood) Agents
7-12. Incapacitating Agents
7-13. Incendiaries
7-14. Biological Agents and First Aid
7-15. Toxins
7-16. Nuclear Detonation
CHAPTER 8. FIRST AID FOR PSYCHOLOGICAL REACTIONS
8-1. General
8-2. Importance of Psychological First Aid
8-3. Situations Requiring Psychological First Aid
8-4. Interrelationship of Psychological and Physical First Aid
8-5. Goals of Psychological First Aid
8-6. Respect for Others' Feelings
8-7. Emotional and Physical Disability
8-8. Combat and Other Operational Stress Reactions
8-9. Reactions to Stress
8-10. Severe Stress or Stress Reaction
8-11. Application of Psychological First Aid
8-12. Reactions and Limitations
8-13. Stress Reactions
APPENDIX A. FIRST AID CASE AND KITS, DRESSINGS, AND
BANDAGES
A-1. First Aid Case with Field Dressings and Bandages
A-2. General Purpose First Aid Kits
A-3. Dressings
A-4. Standard Bandages
A-5. Triangular and Cravat (Swathe) Bandages
APPENDIX B. RESCUE AND TRANSPORTATION PROCEDURES
B-1. General
B-2. Principles of Rescue Operations
B-3. Considerations
B-4. Plan of Action
B-5. Proper Handling of Casualties
B-6. Positioning the Casualty
B-7. Medical Evacuation and Transportation of Casualties
B-8. Manual Carries
B-9. Improvised Litters
GLOSSARY
REFERENCES
INDEX