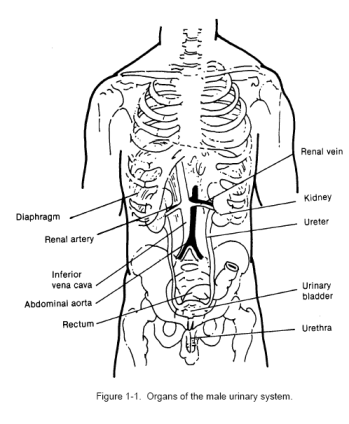 TABLE OF CONTENTS
INTRODUCTION
1 ANATOMY AND PHYSIOLOGY OF THE GENITOURINARY SYSTEM
Exercises
2 PHYSICAL ASSESSMENT OF THE GENITOURINARY SYSTEM
Exercises
3 URINARY SYSTEM DISEASES/DISORDERS
Section I Urinary Tract Infections
Section II Kidney Diseases and Disorders
Section III Management of Kidney Diseases
Section IV Disorders of the Ureters
Section V Disorders Involving the Bladder
Section VI Disorders of the Urethra
Section VII Injuries to Organs of the Genitourinary System
Section VIII Drug Therapy for Genitourinary Disease/Disorders
Section IX The Effects of Aging
Exercises
4 URINARY CATHETERIZATION
Exercises
----------------------------------
LESSON 1
ANATOMY AND PHYSIOLOGY OF THE GENITOURINARY SYSTEM
1-1. INTRODUCTION
The term "genitourinary" actually refers to two different systems. Urinary refers to the system responsible for removal of nitrogenous waste products of metabolism from the bloodstream, disposal of concentrated wastes (urine), and also water conservation. Genito refers to the genital organs and the reproductive system, which is responsible for production of succeeding generations for perpetuation of the species.
1-2. URINARY SYSTEM
The urinary system's primary function is to help keep the body in homeostasis (internal environment of the body remains relatively the same, within limits) by controlling the composition and volume of blood. The urinary system does this by removing and restoring selected amounts of water and solutes. The urinary system is made up of two kidneys, two ureters, one urinary bladder, and one urethra. Each kidney, the primary organs of this system, excretes urine through a ureter. The urine is stored in the urinary bladder and finally expelled from the body through the urethra. See figures 1-1 and 1-2 for organs of the urinary system
NOTE: Other systems also have a part in waste elimination from the body. These
systems are the respiratory, integumentary, and digestive systems
1-3. KIDNEYS
The two kidneys are reddish, bean-shaped organs. They are located on the posterior wall of the abdominal cavity between the level of the twelfth thoracic vertebra (T-12) and the third lumbar vertebra (L3). Think of these organs as being just above the waist. The term for their location is retroperitoneal, which means that they are external to the peritoneal lining of the abdominal cavity. These organs are about 11 to 12 centimeters long and 5 to 6 centimeters wide. Since the liver occupies a large space on the right side of the abdominal cavity, the right kidney is slightly lower than the left kidney. The kidneys are held in place by fat. See figure 1-3.