About Dr. Hughey and Operational Medicine
Dr. Hughey is an Associate Professor of Clinical Obstetrics and Gynecology, at Northwestern University Medical School in Chicago. He is also an Adjunct Associate Professor of Obstetrics & Gynecology at the Uniformed Services University of the Health Sciences, F. Edward Hebert School of Medicine, Bethesda MD. He is on the adjunct faculty at the Naval Undersea Medical Institute, NAVSUBBASNLON, Groton CT. He holds an appointment as a Senior Clinician Educator at the University of Chicago Pritzker School of Medicine.
After receiving his AB degree in biochemistry from Princeton University in 1970, he attended Loyola University Stritch School of Medicine in Maywood, Illinois, completing his MD in 1974. He underwent residency training in obstetrics and gynecology at Northwestern University, graduating in 1978. He is board certified in OB-GYN.
Dr. Hughey entered private practice in 1978 with the NorthCare Medical group, where he was OB-GYN department chairman and Vice President of the medical group. He left that group in 1987 to form the Brookside Associates in Winnetka, IL. In June, 2007, he retired from private clinical practice but continues to operate the Brookside Associates as a medical education company.
Dr. Hughey joined the U.S. Navy Reserve in 1988 as a Lieutenant Commander in the Medical Corps. He was later promoted to Commander, and then Captain, before leaving the Navy in 2002. He served aboard the USS Dwight D. Eisenhower CVN-69, USS Frank Cable AS-40, USS Holland AS-32, and with the Marines. He had assignments at the US Naval Hospitals in Keflavic, Iceland, Yokosuka, Japan, Guantanamo Bay, Cuba, Great Lakes, Illinois, Charleston, South Carolina, and ASU Bahrain. He was recalled several times to active duty to serve at the Naval Submarine Medical Research Lab, Groton, CT, with the Operational Medicine and Fleet Support Division of the Bureau of Medicine and Surgery, and as Special Assistant to the Navy Surgeon General, working with the U.S. Special Operations Command.
He received his Command and Staff Diploma from United States Naval War College. His military decorations include the Navy Achievement Medal, Navy Commendation Medal, and two Meritorious Service Medals.
Dr. Hughey is the author of numerous clinical research papers, textbook chapters, and 5 books, including:
Operational Obstetrics & Gynecology: The Medical Care of Women Assigned to Sea Duty and Other Isolated Duty Stations. Bureau of Medicine and Surgery, United States Navy, Department of Defense, 1993
Operational Obstetrics & Gynecology, 2nd Edition: The Health Care of Women in Military Settings. NAVMEDPUB 6300.2A, 6300.2B, 6300.2C. Bureau of Medicine and Surgery, Department of the Navy, Department of Defense, 2000
Surgical Emergencies in Obstetrics & Gynecology: The Surgical Care of Women in Operational Settings. Bureau of Medicine and Surgery, United States Navy, Department of Defense, 1993
Operational Medicine 2001: Health Care in Military Settings. NAVMEDPUB 5139. Bureau of Medicine and Surgery, United States Navy, Department of Defense, 2001
Military Obstetrics and Gynecology, Brookside Associates, Wilmette, IL, 2006
Dr. Hughey started Operational Medicine in 2006 as a way to provide useful educational resources to those medical providers working in unconventional settings where important resources may be significantly restricted. These resources co
uld include limited supplies, expertise, time, location, or climate extremes.
---
doc@operationalmedicine.org

Michael John Hughey, MD
The Brookside Associates, Ltd.
Medical Education Division

847-853-1500 (Phone)
847-251-7185 (FAX)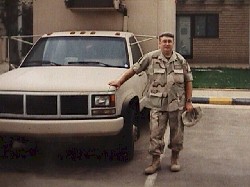 In the Persian Gulf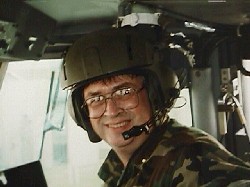 In the cockpit of an LCAC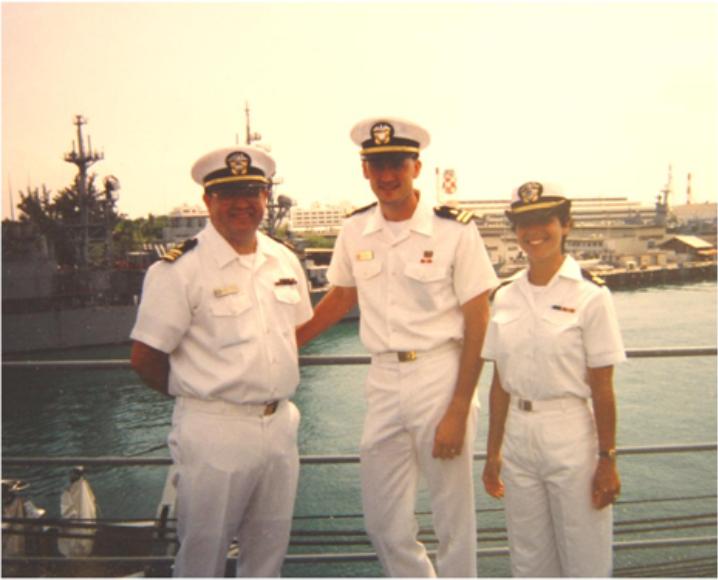 Aboard the USS Frank Cable AS-40, entering Pearl Harbor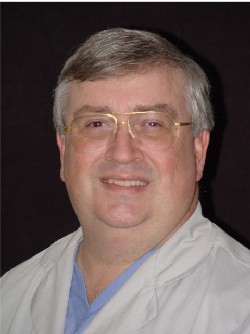 An important way to insure improvement of the medical education process is through feedback.
Feedback may be positive, negative, or neither. It may be lengthy or brief. It may be limited or grand in scope. I consider all these thoughts seriously and will make good use of them in revising the material.
Some revisions are not within my control. I can't revise official publications that were not created by me, but I can certainly attach notices to them, pointing out their problems or issues. I can also help in forwarding any concerns to those with the authority to make revisions.
If you have sources of good training materials, I'd like to see them and possibly post them on the website.