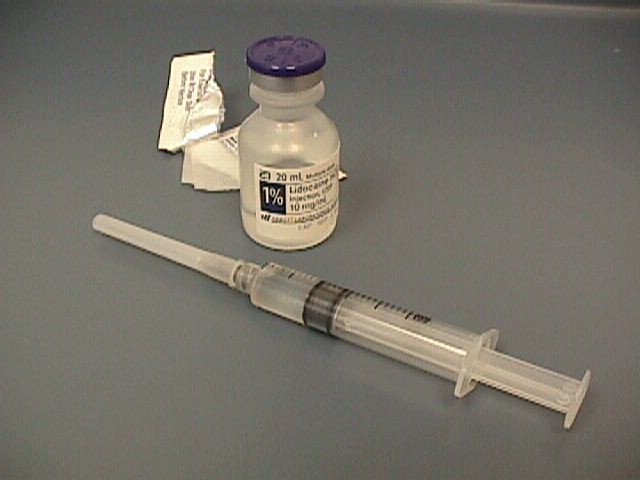 Local/Regional Anesthetics
Lidocaine
amide type anesthetic

the most commonly used local anesthetic

rapid onset and a duration of 60-75 minutes

extended when solutions with epinephrine are used for up to 2 hours

metabolized in the liver and excreted by the kidneys.
INDICATIONS Lidocaine
used to produce local and regional anesthesia for surgical and diagnostic procedures
DOSE AND ROUTES Lidocaine
Percutaneous infiltration: 0.5%, 1.0%

Regional infiltration: 0.5%

Peripheral nerve: 1.0%, 1.5%, 2.0%

Max dose 4 mg/kg or 7 mg/kg with epinephrine

Toxic IV dose: 250 mg
ADVERSE REACTIONS, PRECAUTIONS, AND INTERACTIONS Lidocaine
contraindicated in patients with a known sensitivity to amide type anesthetics

All local anesthetics can produce CNS stimulation, depression, or both
Chloroprocaine
ester type local anesthetic

onset of action is rapid (6-12 min.) and duration of anesthesia is up to 60 min.

rapidly metabolized in the plasma.
INDICATIONS Chloroprocaine
production of local and regional anesthesia for surgical and diagnostic procedures
DOSE AND ROUTES Chloroprocaine
Local infiltration: 2.0%, 3.0% for motor block

Peripheral nerve block: 1.0%, 2.0%

Maximum dose 11 mg/kg or 13 mg/kg with Epinephrine

Toxic IV dose: 450 mg
ADVERSE REACTIONS, PRECAUTIONS, AND INTERACTIONS Chloroprocaine
contraindicated in patients with known hypersensitivity to drugs of the PABA ester group

All local anesthetics can produce CNS stimulation, depression, or both
Procaine
ester type local anesthetic

slower onset of action than Lidocaine

duration of action is approximately one hour

primarily metabolized in the plasma
INDICATIONS Procaine
used to produce local and regional anesthesia for surgical and diagnostic procedures
DOSE AND ROUTES Procaine
Infiltration: 0.25%, 0.5%

Nerve block: 1.0%, 2.0%

Maximum dose 11 mg/kg or 13 mg/kg with Epinephrine

Toxic IV dose: 450 mg
ADVERSE REACTIONS, PRECAUTIONS, AND INTERACTIONS Procaine
Contraindicated in patients with a known hyper-sensitivity to PABA ester type anesthetics

All local anesthetics can cause CNS stimulation, depression or both