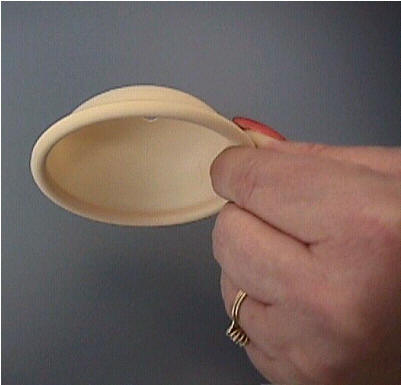 Some condoms are pre-lubricated. While this makes them somewhat more difficult to put on (they are slippery), the lubrication increases their heat and surface contour conduction, making their use seem less "artificial," and improving sensitivity. For couples in whom vaginal lubrication is insufficient, lubricated condoms can be helpful. Use of petroleum jelly as a lubricant is probably not a good idea as latex is soluble in petroleum products and the lubricant may weaken the condom.
Some condoms are packaged with a spermicide (nonoxynol-9). This addition increases their effectiveness somewhat, but condoms are still considered about 98% effective. That is, 2 women out of 100 will become pregnant each year if condoms are used as contraception.
Some couples place the condom on the male just prior to his orgasm, but after considerable penetrative sexual activity has already taken place. To maintain a high level of effectiveness, the penis should not come in contact with the vulva or vagina prior to placement of the condom. During sexual arousal but prior to orgasm, a small amount of clear liquid may appear at the tip of the penis. This liquid can contain both sperm and STDs. If the penis were to enter the vagina at this time, both pregnancy and infection are possible, even though male orgasm has not yet occurred.
Some condoms have a reservoir tip to collect semen after ejaculation. Others have no such reservoir. For those condoms, it is a good idea to pinch the tip of the condom before applying it, creating an air-free space that can function as a reservoir tip.
The condom should be rolled completely down to the base of the penis before use
In addition to providing contraception, the condom also provides reasonably good protection against some sexually-transmitted diseases. The condom provides y good protection against HIV, chlamydia, gonorrhea and syphilis...those STDs transmitted via semen or body fluids. The condom does not offer much protection against such STDs as condyloma (warts) or herpes, because these viruses are transmitted mainly through skin-to-skin contact and the condom does not totally cover all areas of intimate skin contact in the male, nor does it cover all of the vulnerable tissues in women. Condoms are also used to prevent STD transmission during oral sex.
Consult for a genital herpes testing at clinics providing reliable medical examination for your sexual health.
Condoms can be applied by either partner to the erect penis. It is nearly impossible to apply to a flaccid penis and would not likely remain in place, even if it were possible.
Diaphragm
A diaphragm is a latex-covered, flexible ring that fits inside the vagina, covering the cervix.
It prevents pregnancy by keeping sperm away from the cervix (the latex is impenetrable), and by holding spermicidal cream up against the cervix so that the few sperm who successfully find their way around the diaphragm are eliminated by the spermicide.
It can be inserted up to several hours prior to intercourse, and should remain in place for at least 6 hours after intercourse. If multiple episodes of intercourse occur, additional contraceptive cream may be placed in the vagina, but diaphragm should not be dislodged.
The diaphragm is very effective, with only about 5 failures per 100 women per year. Reasons for failure include non-use, improper positioning, or suboptimal use in addition to simple method failure.
Diaphragms should be individually fitted. One commonly-used size is a 65 mm diaphragm (65 mm in diameter), but sizes range from 60 to 95 mm. A properly-fitted diaphragm will cover the cervix completely, will not move in the vagina, and will be so comfortable that the woman will not know that she is wearing it. Should a pelvic aching occur several hours after insertion, the diaphragm is too large and a smaller one should be substituted. If the woman complains that the diaphragm is uncomfortable or painful for her, the size should be rechecked and changed. Her partner should not be able to feel the diaphragm under ordinary circumstances.
To remove the diaphragm, insert a finger into the vagina to hook the rim of the cervix. Pull it straight out and the flexible rim will fold as it comes out.
After each use, the diaphragm should be washed with warm water and soap, rinsed well, and allowed to dry before returning it to its' case.
Women with latex allergy cannot use the diaphragm as it will cause a reaction. There are non-latex diaphragms available, but they may prove difficult to obtain.
Women who are sensitive to nonoxynol-9, the active ingredient in spermicidal creams, may or may not tolerate the diaphragm.
A diaphragm is generally a good choice for women for whom a 5% failure rate each year is acceptable. It offers reasonably reliable contraception when needed without the potential side effects of hormonal contraception and infectious complications of IUDs. It has less of an "artificial" feel than condoms.
A diaphragm is generally a poor choice for women who are relatively inexperienced sexually as it requires a moderate degree of manual dexterity, moderate familiarity with external and internal reproductive anatomy, and sexual circumstances that allow for either pre-positioning or a brief interruption in lovemaking in order to place the diaphragm correctly.
Continue to the PowerPoint Lecture...
From:
Operational Obstetrics & Gynecology
2nd Edition
NAVMEDPUB 6300-2C
Bureau of Medicine and Surgery
Department of the Navy