Introduction
"Desert Storm" demonstrated once again that Navy Hospital Corpsmen are vital members of the Health Care Delivery Team. Their responsibilities and roles are expanding as are the demands placed on them to provide quality health care. In order to meet these demands and better prepare Hospital Corpsmen, training is a necessity. The Sick Call Screeners Course is such a program and is directed at the junior Hospital Corpsmen (E-2 to E-4). Here the Corpsmen are exposed to clinical subjects taught by a staff of highly skilled personnel (Physicians, Nurses, Physician Assistants, and Independent Duty Corpsmen). The goals and objectives of this course are:
To give the Corpsmen a better understanding of the clinical aspects of medicine in a Military Sick Call setting.
To expose corpsmen to the techniques of obtaining a history, performing a physical exam and recording their findings in an outpatient record.
To learn the signs, symptoms and therapy for medical problems that are common to military sickcall.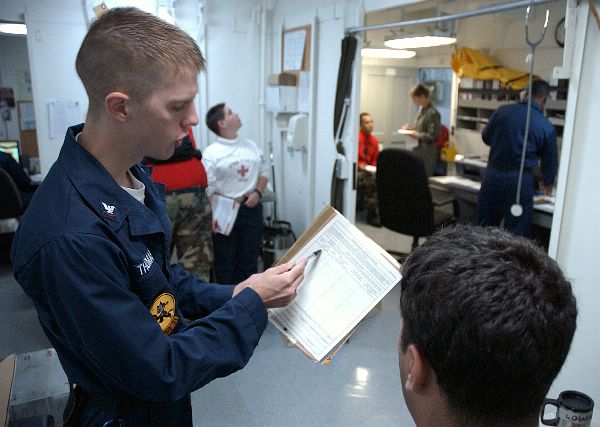 Course Description
The Military Sick Call Screeners Course is divided into modules that cover specific areas of medicine. The topics include: Dermatology, Eye, ENT, Neurology, Cardiology, Pulmonary, Gastrointestinal, Orthopedics, Sexually Transmitted Diseases, Infectious Diseases, Endocrinology, and Pharmacology. Each module contains sections on anatomy and physical examination and a number of common medical problems presented in a SOAP format.
The course is designed to be presented over a period of eighty hours. Written test and quizzes, a mid-term and a comprehensive final exam will be given. A practical examination will also be used to evaluate the student's ability to perform a physical examination.
Instructors will draw upon personal knowledge and experience and demonstrate the physical examination techniques required for each section.