Operational Medicine is the healthcare provided in unconventional settings where important resources may be significantly restricted. These resources could include limited supplies, expertise, time, location, or climate extremes.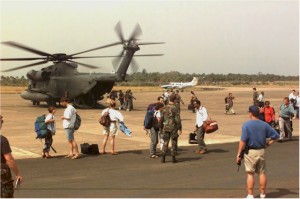 Textbooks: Classic textbooks of operational medicine and manuals produced by the U.S. military and other authoritative sources.
Videos: Sometimes reading about a procedure isn't enough. You need to actually see it done to understand it.
Lectures: Over 40 PowerPoint lectures, discussing  important operational medicine issues.
Distance Learning: Free e-Learning courses for web training in operational medicine and nursing subjects.
Training: Education and training is available from a variety of resources, both public and private.
Stress: Psychological support for you, your colleagues, and your patients.
Operational Safety: Protect yourself and your patients in operational settings.
About Us: Background and contact information for this operational medicine website.
Operational Medicine Specialties include:
Aviation Medicine
Disaster Medicine
Emergency Medicine
Event Medicine
Foreign Service Medicine
Pre-Hospital Medicine
Shipboard Medicine
Tactical Medicine
Travel Medicine
Wilderness Medicine