This video demonstrates how to use a microscope and "wet mount" to identify the "Clue Cells" of bacterial vaginosis. This condition is associated with a malodorous vaginal discharge and is both common and easily treated. A second video shows normal vaginal epithelial cells to help contrast them with the Clue Cells of bacterial vaginosis.
These free videos were produced by the US Navy as training for medical personnel in isolated settings. It was included on the Operational Obstetrics & Gynecology CD. They may be freely downloaded.
The longer version was produced by the Brookside Associates for civilian training. It is longer (5-minutes) and is available for download. The same video but in high-resolution is available on CD or DVD.

BV Video Runtime 0:30
5.4 MB mpg
Download Now
Normal Vaginal Epithelial Cells Video Runtime 0:20
3.6 MB mpg
Download Now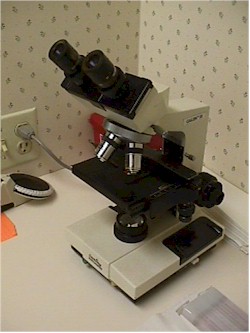 Bacterial Vaginosis Clue Cells
"A drop of normal saline is mixed with vaginal discharge."
"Focusing up and down through a vaginal epithelial cell, bacteria cover the exterior surface of the cell."
"This is a clue cell, characterized by indistinct borders, studding with bacteria, and fewer than expected white blood cells."
Bacterial Vaginosis Clue Cells
"This is a normal vaginal epithelial cell."
"The borders are distinct and clear."