Labor consists of regular, frequent, uterine contractions which lead to progressive dilatation of the cervix.
The diagnosis of labor may not be obvious for several reasons:
Braxton-Hicks contractions are uterine contractions occurring prior to the onset of labor. They are normal and can be demonstrated with fetal monitoring techniques early in the middle trimester of pregnancy. These innocent contractions can be painful, regular, and frequent, although they usually are not.

While the uterine contractions of labor are usually painful, they are sometimes only mildly painful, particularly in the early stages of labor. Occasionally, they are painless.

Cervical dilatation alone does not confirm labor, since many women will demonstrate some dilatation (1-3 cm) for weeks or months prior to the onset of true labor.
Thus, in other than obvious circumstances, labor will usually be determined by observing the patient over time and demonstrating progressive cervical changes, in the presence of regular, frequent, painful uterine contractions.
The cause of labor is not known but may include both maternal and fetal factors.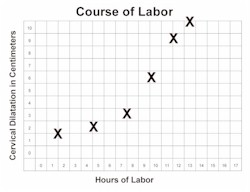 ---
Home · Introduction · Medical Support of Women in Field Environments · The Prisoner of War Experience · Routine Care · Pap Smears · Human Papilloma Virus · Contraception · Birth Control Pills · Vulvar Disease · Vaginal Discharge · Abnormal Bleeding · Menstrual Problems · Abdominal Pain · Urination Problems · Menopause · Breast Problems · Sexual Assault · Normal Pregnancy · Abnormal Pregnancy · Normal Labor and Delivery · Problems During Labor and Delivery · Care of the Newborn
Bureau of Medicine and Surgery
Department of the Navy
2300 E Street NW
Washington, D.C
20372-5300

Operational Obstetrics & Gynecology - 2nd Edition
The Health Care of Women in Military Settings
CAPT Michael John Hughey, MC, USNR
NAVMEDPUB 6300-2C
January 1, 2000
This web version of Operational Obstetrics & Gynecology is provided by The Brookside Associates Medical Education Division. It contains original contents from the official US Navy NAVMEDPUB 6300-2C, but has been reformatted for web access and includes advertising and links that were not present in the original version. This web version has not been approved by the Department of the Navy or the Department of Defense. The presence of any advertising on these pages does not constitute an endorsement of that product or service by either the Department of Defense or the Brookside Associates. The Brookside Associates is a private organization, not affiliated with the United States Department of Defense. All material in this version is unclassified.
This formatting © 2006 Medical Education Division, Brookside Associates, Ltd.
All rights reserved