This video demonstrates how to perform a bimanual pelvic exam, using two fingers in the vagina and the other hand on the lower abdomen.
The free, short version was produced by the US Navy as training for medical personnel in isolated settings. It was included on the Operational Obstetrics & Gynecology CD. It may be freely downloaded.
The longer version was produced by the Brookside Associates for civilian training. It is longer (5-minutes) and is available for download. The same video but in high-resolution is available on CD or DVD.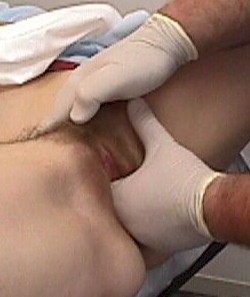 Bimanual Exam
"Using two lubricated, gloved fingers in the vagina, and the other hand on the abdomen, each of the pelvic structures is palpated."
"These include the cervix and uterus, and both fallopian tubes and ovaries."
"Then the bladder and urethra are compressed against the pubic bone. Normally they are not tender"