This video demonstrates how to draw blood from a patient, also known as venipuncture.
This free video was produced by the US Navy as training for medical personnel in isolated settings. It was included on the Operational Obstetrics & Gynecology CD. It may be freely downloaded.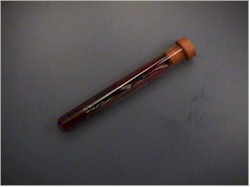 Drawing Blood
"Place a tourniquet, not too tightly, on the upper arm."
"Cleanse the skin with alcohol."
"Feel for the distended veins."
"The antecubital fossa contains several branches of these large veins."
"Swab the skin with antiseptic."
"Wipe clean with alcohol."
"Insert the needle at a 15 degree angle."
"As the needle enters the vein, feel the slight 'pop' or release of pressure...."