This video demonstrates how to test for trace amounts of blood in the patients stool. Trace amounts of blood in the stool can be sign of a number of problems, colon cancer being the most worrisome.
This free video was produced by the US Navy as training for medical personnel in isolated settings. It was included on the Operational Obstetrics & Gynecology CD. It may be freely downloaded.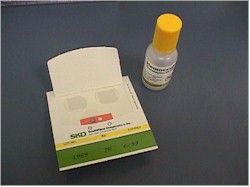 Hemoccult Test

"Place a small amount of stool from the examination glove on the test card."
"Wait the length of time specified by the test kit manufacturer."
"Put one drop of developer over each stool smear."
"Then put a drop of developer on the control circles. The positive control will turn blue."