This video demonstrates how use a commercially-prepared "dip-stick" to test a random urine specimen for the presence of protein or glucose.
This free video was produced by the US Navy as training for medical personnel in isolated settings. It was included on the Operational Obstetrics & Gynecology CD. It may be freely downloaded.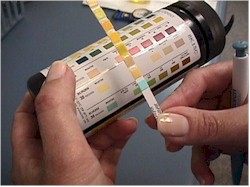 Testing Urine for Protein and Glucose
"A urine test strip is dipped in the urine."
"Compare the color of the test strip to the standard colors on the bottle."
"This urine is normal."
"This urine has 3+ glucose."